Publishing new blog posts, new product or service pages, landing pages, or any type of new web page on a website is something most website managers do frequently. When it comes to making a new page, you might duplicate an existing page or start from scratch. Either way, it's easy to miss small, key components that can have a big impact on SEO and user experience. Our SEO checklist will help you make sure you don't miss any critical steps.
In our SEO checklist, we've outlined 8 key things to double check before launching a new web page.
1. Include A Page Title & Meta Description For SEO
Page Title
The Page Title is often the first thing users see, even before they arrive on your website. It's also a key factor Google uses when determining the topic of a page. In fact, Moz lists Title tags as the second most important on-page factor for SEO. The purpose of a Page Title is to help you rank for a keyword and entice users to click on through to your page.
The Page Title is what Google and other search engines show in search results. See this example from a search result below:
The SEO Page Title is not the heading on your page, what users see after they are on the page itself. See #4 on H Tags below for that.
If your title is too long, it will get cut off in search results. Google doesn't have a fixed length (character count), but rather a fixed width in pixels for titles. Generally between 8-12 words will work well. Also be sure to include your keywords in your title since the Page Title has such big implications for SEO.
Here are more tips from a tool we love called Yoast to create the perfect Page Title.
Meta Description
The meta description also shows up in search results, not actually on your web page (reference example above). It is also what Facebook, LinkedIn, Slack, and other social media link sharing previews display.
The meta description should be about 155 characters and should summarize the page's content. Including your keywords and a call to action are a great idea since, again, this is a preview to entice users to click through to your page.
Learn more about how to best optimize your meta descriptions in this article from Yoast.
2. Include Image Alt Tags
An alt tag, also known as "alt attribute" and "alt description," is an HTML attribute applied to image tags to provide a text alternative. This alternative text describes your images and is important for screen readers to provide critical missing context for users who can't see them. Of course, they are also used by search engines.
Alt text allows Google to read descriptions of images. They describe the object pictured itself and, generally, the purpose it serves on the website.
Images are typically used on websites for a few different reasons:
Informative images provide additional information to users, supporting copy surrounding them.
Active images prompt a user to take some action — essentially a call to action.
Decorative images are there solely for visual design and don't provide any additional information to users.
Only provide alt text to informative and active images. Providing alt text for decorative images adds unnecessary information when read aloud by screen readers, potentially resulting in frustration and confusion for users. For decorative images, simply leave the alt tag blank.
SEMrush has great image optimization tips on their blog here.
3. Add Social Share Images And/Or A Featured Image
There's nothing worse than creating a page, then going to share it on LinkedIn or another social site and realizing it has no image included in the preview. Or worse, a weird, random image.
Example: Small, unintentional image pulled into the post preview when no OG or featured image is set
Example: Appropriately-sized image shown when a featured image is set
When you paste your new web page's URL into the post creator on Facebook, Twitter, or LinkedIn, you'll likely see a preview of the link and an image if it finds one. This social share preview shows you how the preview of your web page will look when shared on that social media platform.
Using Open Graph meta tags (or OG) correctly helps you optimize your social media link previews. You can ensure your content stands out and viewers see exactly what you want them to.
We've detailed in length on this post all about Open Graph images and how to use them.
There is a way to preview your content on each platform using their own tools. But, it's time consuming to go back and forth between each platform, and some platforms don't have these built-in tools. So, we created a social share preview tool to allow you to preview your web page on a variety of platforms all in one place!
Check your social sharing images off your SEO checklist with our Social Sharing Preview tool! It allows you to quickly check your content on Twitter, Facebook, Slack, LinkedIn, and Google—all from one simple interface.
Preview Before You Share!
Preview how your webpage will be displayed when shared on Twitter, Facebook, Slack, and LinkedIn. Plus, view your raw tags and see how your page preview will show up in Google Search.
4. Include Appropriate H Tags
HTML elements provide context around content. This context, or semantic meaning, aids search engines in indexing your content and is a vital point in our SEO checklist. It also helps users navigate and consume content more easily, providing a more accessible experience for all.
Strive for proper semantic structure in your HTML by utilizing HTML elements for their intended purpose. Headlines should use heading elements, which include h1, h2, h3, h4, h5, and h6 in HTML.
The H1 element is reserved for the most important headline or title of a document, with each subsequent heading decreasing in importance.
Ensure you use just one H1 tag on a page. Using more than one may cause Google to consider your page as over-optimized.
Often the H1 tag will be similar to your Page Title, but it doesn't have to be. Usually, it will be the title of your blog post or article. It should be between 20 and 70 characters in length.
Most importantly for SEO, be sure to include keywords or your target keyphrase in your H1.
5. Check For Broken Links
Be sure to check your new page for any broken links before going live. Use a free tool like our Page Link Audit tool.
Audit Your Link Statuses
Audit all of the links your website points to and see both internal links and external links at a glance. View their url, text, and status to find and fix broken links, audit redirects, HTTP statuses, and more.
Typically if you've just written your page content, the internal and external links you're including will most likely not be broken. But, in the future you can't control what external links may turn into 404s and even some of your internal links may be 404s in the future.
That's why we're building a reporting feature within Zelolab to constantly check all your pages and report to you when any broken links are found. We'll be releasing this feature soon!
6. Enable Indexing And Add Page To Sitemap
SEO hinges on search engines' abilities to crawl your website. Creating and submitting a sitemap to Google is a vital step to complete if you want Google to crawl and rank your website.
Hopefully you already have a sitemap in place. If so, when you add a new page to your website, it should theoretically be added to your existing website. The only reason this may not happen is if you've set your new page to not be indexed.
There's good reason to do this for certain pages you don't want Google to crawl, and sometimes that might mean in-progress pages. Making sure you've enabled indexing when you're ready to may just be the most important SEO checklist item to check off to ensure Google can crawl your new page.
7. Ensure Form Submissions Are Working
Of course if you have any sort of lead forms on your new page, you'll want to test those out and ensure they are working properly. Should the submitters' information be routed to your ESP or CRM? Perhaps they should they receive an email confirmation? Should there be a confirmation message on the screen, or should they be redirected to a new page? Make sure the entire user flow is working as expected.
While not directly related to technical SEO, ensuring forms are working will help your user experience, and that is becoming an ever-increasing marker for Google's ranking strategy.
8. Check Your Page Speed
Page speed is a factor Google uses when determining search rankings. Of course, the faster the better! Google Search Console and Google Page Speed Insights are go-to tools for checking your page speed.
Zelolab's Page Speed Audit combines Google Lighthouse's Performance Audit desktop and mobile scores to show them at-a-glance. You can view Performance, Accessibility, Best Practices, and SEO scores in one simple view.
Audit your page speed and performance.
See Google Lighthouse's Performance Audit desktop and mobile scores at a glance. View Performance, Accessibility, Best Practices, and SEO scores.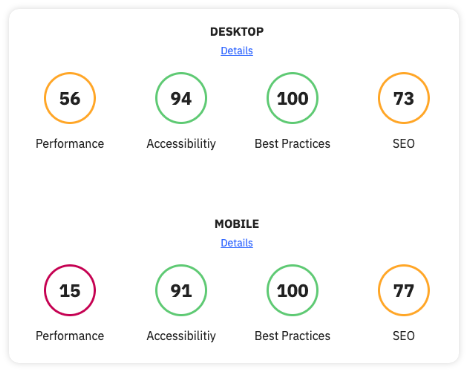 There are many other things you might include in your SEO checklist, but these key things will ensure your new web page is off to a good start.
Get the latest news.
Sign up to our email list and be the first to know when we launch new tools and publish resources.